Congratulations to the winners and thank you to every single one of you who came out for the CBA Spring Sectional in Orange. We had 138 total tables!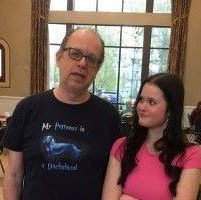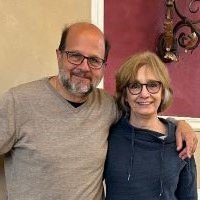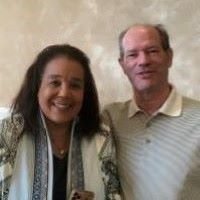 Left to right: Aaron and Avery Silverstein, Nadim and MJ Matta, Jill Fouad and Robert Lavin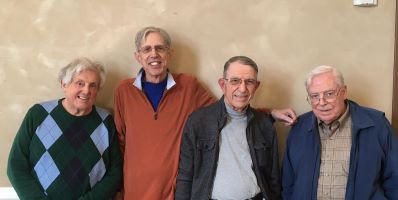 Left to right: Rich DeMartino, Geof Brod, Larry Bausher, Steve Becker
Friday morning Open Pairs - Paul Proulx and Bill Segraves
Friday morning 499er Pairs - Judith Burger and Deborah Sherran
Friday afternoon Open Pairs - Jill Fouad and Robert Lavin
Friday afternoon 499er Pairs - Robin Stineman and Deborah Brennan
Saturday morning Open Pairs - Avery and Aaron Silverstein
Saturday morning 499er Pairs - MJ and Nadim Matta
Saturday afternoon Open Pairs - Jeff Goldman and Brett Adler
Saturday afternoon Open Pairs - MJ and Nadim Matta
Sunday Open Swiss Teams - Rich DeMartino, Geof Brod, Larry Bausher and Steve Becker
Full Results from Orange Sectional are available here.
NEW FEATURE - CBA TOP TEN MASTERPOINT WINNERS FOR 2023
ASK THE EXPERTS VOL 1 NUMBER 4 IS NOW POSTED
President's Message

My name is Peter Marcus and I am honored to have been elected as President of the Connecticut Bridge Association. I plan to write regular "President Messages" and welcome comments from Connecticut players on topics that you would like to see me address.


First, I would like to thank Frances Schneider for her incredible service and dedication to the CBA. She was elected to a two-year term as President before COVID and continued long past that to ensure continuity and excellence through the COVID crisis. In addition, I would like to thank all the members of the CBA Board, those who are now moving on, those who are staying, and the new ones coming on, as well as the many other volunteers who have kept the Connecticut bridge ship afloat in the last three years.


By way of introduction, I moved to Connecticut in 1973 when I attended Wesleyan University. That is where I learned to play bridge. Quickly realizing that I would never be a great player, I decided to enjoy the game of bridge as a director, starting at a club in Southington in 1977 and then becoming an ACBL Tournament Director. I worked for the ACBL for 36 years, rising to the level of Associate National Director and, while I am no longer an ACBL employee, I am still the DIC (Director in Charge) for New England regionals (long story).
 

I directed my first Connecticut sectional in September 1982 in New London and was the DIC for almost all Connecticut sectionals until about 2001, when my wife and I moved from Bolton to London. Since then, we have lived in many places, including Dallas and Boston. Last year we moved back to Stamford. My main, in fact only, interests, other than family, are my very spoiled Golden Retriever, Kismet, bridge and the New York Mets. I am not a fan of the Mets. I am a Mets psychopath (in a good way) and have attended every Mets home game since August 29, 2013, totaling 663 in a row as of the end of this season.


I am very proud of my bridge experience and believe I can use it to benefit bridge in this state. As a director and in other roles, I have lots of bridge administration experience and know ACBL rules and procedures inside-out. Hopefully, I can use this to help bring bridge in Connecticut out of the COVID pandemic era and begin the long climb back to the vibrant community we had before COVID.


I welcome all feedback about any bridge issue, whether that be praise or complaint. You can email me at any time at marcusp@att.net. Except in strange circumstances, I read my email continuously almost every day; so, a reply, at least an acknowledgement, should come very quickly. I cannot promise I will be able to answer every question, and the ones I can answer, I can't promise to provide an answer you will agree with. I do promise, however, to give you the best answer I can based on my many years of bridge experience and knowledge.
 

I look forward to seeing you at the tables.